Pu
ppies have fun at Donview Vets puppy parties!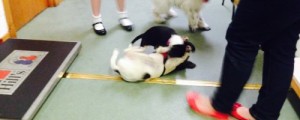 All the puppies had great fun at our puppy party last night. The puppies had a huge play session as their owners got a tour of the practice. Puppies and owners all enjoyed the party, apparently the puppies had a great nights sleep afterwards!
Puppy parties are held once a month for puppies that have had their second vaccinations at Donview. Puppies get to socialise with other puppies, you get a tour of the practice and the Vets and Nurses up date you on the best way to care for your new family member.
If you are interested in signing your puppy up call us on 01467 621429